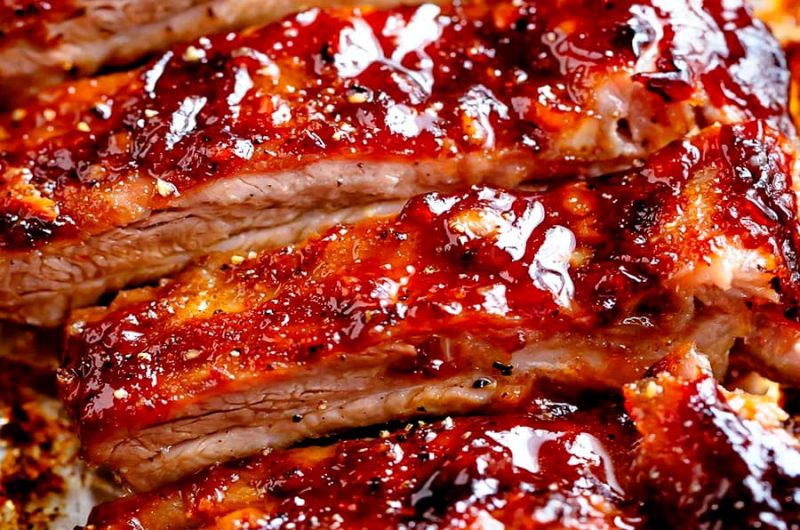 Ribs in the Oven
Plato: BBQ Lovers
Cocina: BBQ
Dificultad: Medium
Total time
3
horas
20
minutos
These ribs are not only easy to make but also flavorful. The BBQ ribs recipe is so juicy and spicy that you will make it again and again. Give a try to this delicious spring special BBQ recipe and shock everyone with its taste and tenderness.
Ingredients
FOR BARBECUE SAUCE

1/4 medium-sized onion

2 tablespoons of tomato paste

2 tablespoons of brown sugar

1 tablespoon of sweet paprika

1 tablespoon mustard

1 tablespoon of common honey

1 can (8 oz.) of tomato sauce

1 tablespoon soy sauce

3 tablespoons vinegar

1 tablespoon olive oil

1 tablespoon hot sauce

Ground black pepper, to taste

2 tablespoons of Worcestershire sauce

2 garlic cloves, minced

Salt, to taste

FOR RIBS

4-5 lbs. Pork spareribs or baby back ribs

1 cup barbecue sauce

2 tablespoons onion powder

4 tablespoons Brown sugar

2 tablespoons cayenne pepper

3 tablespoons cumin powder

2 tablespoons cinnamon powder


1 tablespoon garlic powder


Salt, to taste
Directions
FOR BARBECUE SAUCE
First of all, peel the onion and cut it through the center. Wash it with little water. In this way, the tearing effect will be reduced. Now chop the onion into small pieces. Set the chopped onion aside.
Now heat olive oil in a skillet and let it heat up on medium flame for few seconds.
Add garlic and stir fry until it becomes fragrant. Or for about 30-35 seconds.
Add chopped onion into the skillet and stir well. Add salt and mix it well with the onion. Let the onion cook until it becomes softened or for about 5-7 minutes.
When the onion is nicely cooked, add Brown sugar and stir quickly so that sugar does not stick with the pan. Cook until the onion is caramelized.
Now add tomato sauce and tomato paste. Stir well until everything is well combined. Cover the lid and let everything cook for 3-4 minutes on medium flame.
Add Worcestershire sauce, sweet paprika, honey, hot sauce, mustard sauce, soy sauce, and vinegar, stir well until everything is combined. Now simmer sauce for about 1-2 minutes on low heat.
Season the sauce with black pepper and turn off the flame.
Let the sauce cool at room temperature. Transfer the sauce to an air-tight jar and store it in the refrigerator.
FOR BIBS IN THE OVEN
Preheat the oven at 420 degrees F.
In a mixing bowl add onion powder, garlic powder, brown sugar, salt black pepper, cayenne powder, cumin powder, and cinnamon powder, mix well. Set this dry rub aside.
Line baking sheet with aluminum foil. Place pork ribs on the sheet.
Now sprinkle dry rub over the pork ribs and rub it all over until they are covered from both sides.
Now drizzle barbecue sauce over the ribs and brush it all over the ribs from both sides.
Place the baking sheet in the middle of the heating section of the oven and bake for about 3 hours or until cooked thoroughly.
Serve hot when done.
Notes
You can store the barbecue sauce in an air-tight jar for about 2-3 weeks. Try to use a dry spoon to take out the sauce otherwise, it will be spoiled by the fungus.
Baby back ribs in oven
◁ Check more recipes ▷