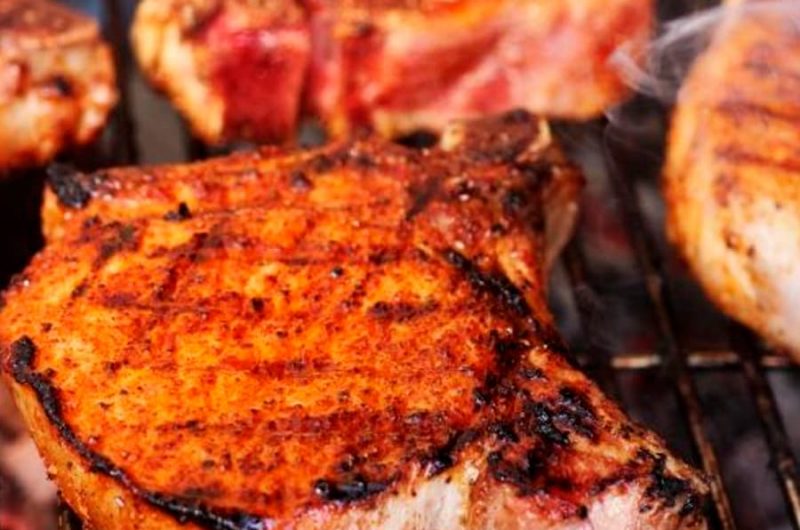 Grilled Pork Chops
Plato: BBQ Lovers
Cocina: BBQ
Dificultad: Medium
This grilled pork chop recipe is magical. You will forget all previous devoured tastes of pork chops after having this recipe. This grilled pork chop recipe is going to be your favorite one because it's easy to make, juicy to taste and perfect to satisfy your taste buds. So, follow my instructions to make super delicious grilled pork chops at your place and feel like a magical chef!
Ingredients
4-5 bone-in thick center-cut pork chops or rib pork chops

2 tablespoons hot sauce

1 tablespoon honey

2 tablespoons brown sugar

2 tablespoons soy sauce

1 tablespoon Worcestershire sauce

2 tablespoons balsamic vinegar

1 tablespoon chili sauce

Salt, to taste

Black pepper, to taste

1 teaspoon smoked paprika

1 teaspoon cayenne pepper

2 garlic cloves, minced

2 tablespoons olive oil

1 large pinch or ¼ teaspoon of dried rosemary
Directions
First of all, pat dry the pork chop by using a kitchen towel or paper towel.
Sprinkle some salt and some olive oil over the pork chops and rub all over the pork chops with the help of your hands. Set aside for 2-3 minutes.
While you put pork chops at rest, take a large bowl and add soy sauce, garlic, Worcestershire sauce, remaining salt, paprika, cayenne pepper, chili sauce, balsamic vinegar, honey, and Brown sugar, mix until everything is combined well.
Now place all pork chops into the bowl containing the spices. Roll out the pork chops in the spice mixture until coated well from both sides.
Cover the bowl with plastic wrap and set aside the pork chop for about 30-40 minutes so that the spices can be absorbed thoroughly.
Now preheat the grill and brush it with olive oil.
Place the marinated pork chop over the hot grill and let them cook for about 5-6 minutes per side. Or until cooked nicely. Brush the pork chops with leftover marinade (if any) while cooking.
Serve hot and enjoy
Notes
The cooking time for pork chops depends on the thickness of the pork chops and the temperature of the grill. The ideal time for cooking the pork chops is about 14-15 minutes at 145 degrees F.
For the best cooking experience, I will suggest you take born-in pork chops having at least 1-inch thickness.
Serve pork chops with mashed potatoes or with any desired dip.
You can use leftover pork chops for tacos, burgers, or sandwiches.
Grilled Pork Chops
◁ Check more recipes ▷