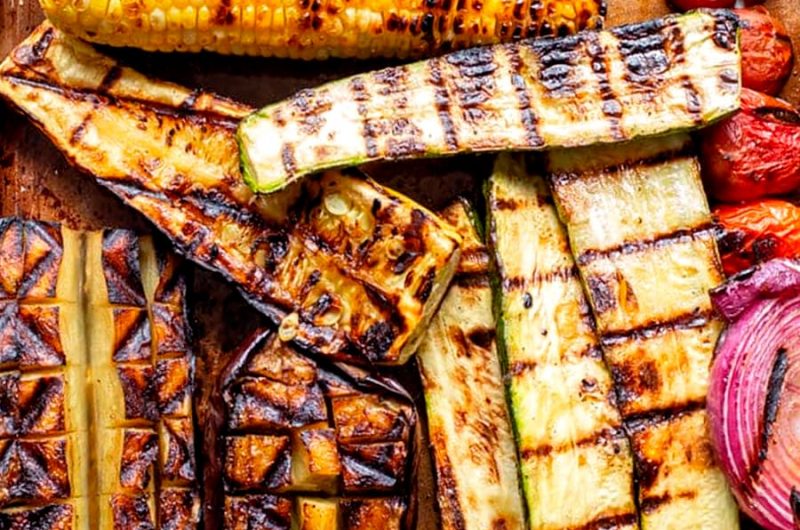 Grilled Vegetables
Plato: BBQ Lovers
Cocina: BBQ
Dificultad: Easy
Are you looking for a quick yet mouth-watering grilled vegetable recipe? Here, you have a special treat. Make these grilled vegetables for dinner or any get-together and give a tasty treat to everyone. Believe me, your family members will ask you to make this delight again and again.
Ingredients
1 medium-sized yellow squash, washed properly

2 large zucchinis, washed properly

2 red bell peppers, washed properly

2 green bell peppers, washed properly

2 yellow bell peppers, washed properly

1 medium onion

2 medium eggplants, washed properly

1 head broccoli, washed properly

¼ cup extra virgin olive oil

Salt, to taste

Black pepper, to taste

1 teaspoon garlic powder

1 teaspoon dried thyme

1 tablespoon dried Rosemary

½ teaspoon smoked paprika powder

1 tablespoon vinegar
Directions
Pat dry all the vegetables with a clean cloth or with a paper towel.
First of all, cut the yellow squash into 1×1 inch thick cubes or you can cut it in the desired shape. Set the squash cubes aside.
Now, peel off the onion and cut it into 6 equal parts. With the help of hands, separate each portion so that you can get equal-sized cubes of the onion. Set onion cubes aside.
Cut the broccoli hear into equal and bitable florets. Set them aside.
Cut the zucchinis into 1×1 thick cubes. Set aside.
Take the bell peppers and remove their stems. Cut each bell pepper through the center and remove the seeds and core. Cut the bell peppers into 2×2 inch cubes. Set them aside.
Cut the eggplants into 1×1 inch thick cubes. Set aside.
Now take a large mixing bowl and add all vegetables to the bowl. Drizzle olive oil and vinegar over the vegetables. Sprinkle garlic powder, salt, black pepper, paprika powder, rosemary, and thyme. Toss until everything is combined well.
Take metal skewers and thread them with vegetable slices in any sequence you like.
Preheat a grill and brush it with some olive oil.
Place all skewers on the grill and let them cook for about 7-8 minutes per side. Keep changing the sides of the skewers so that they can cook evenly from all sides. Brush them with residual olive oil (if any) from the bowl in which vegetables were mixed. Cook until vegetables are tender.
Remove from the grill when done, and drizzle the desired sauce on the top before serving.
Notes
You can choose vegetables of your choice. I added all summer available vegetables in this recipe. It's all up to you, which vegetable you like to add or skip.
You can use these leftover grilled vegetables to make delicious tacos or sandwiches.
Grilled Vegetables
◁ Check more recipes ▷