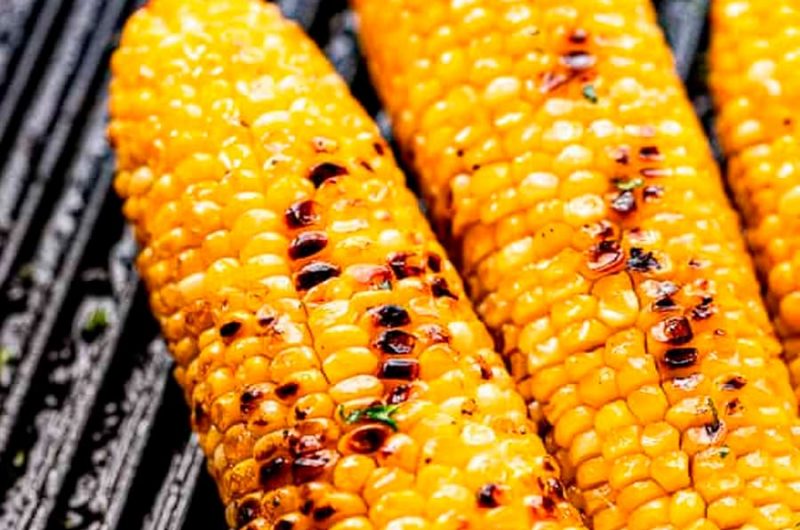 Grilled Corn on the Cob
Plato: BBQ Lovers
Cocina: BBQ
Dificultad: Medium
Why not make tasty sweet, and juicy corns on the cob while it is summer? What's best more than a smokey, sweet, and crunchy bite of grilled corn? This recipe is made with nicely fresh-picked green husked corns. I grilled these corns by removing the husks. You can keep the husk on the corns if you want to. Either way takes about 10-12 minutes for cooking. so, let's get it started!
Ingredients
4 corns

2-3 tablespoons of butter

1 teaspoon salt

1 teaspoon paprika powder

1 teaspoon cumin powder

¼ teaspoon cinnamon powder

¼ teaspoon black pepper

1/4 teaspoon garlic powder

1 lime, cut into wedges
Directions
In a bowl add salt, garlic powder, cinnamon powder, cumin powder, paprika powder, and black pepper. Mix well. Set this dry rub aside. You can add spices according to your desired taste.
Heat the grill on medium heat and brush it with some cooking oil or butter. Make sure that butter does not burn. Place corn cobs quickly on the grill when you added butter to the grill.
Remove the husk from the corns and remove all silk hair carefully.
Place the corns on the hot grill and let them cook for about 10-12 minutes. Keep changing the sides after every 5 minutes. Cook until nicely charred from all over.
When done, remove the corns from the grill and place them in a serving platter.
Brush the grilled corns with butter.
Now roll out each lime wedge into the dry rub and rub it on hot corns.
Eat hot and enjoy yourself with your loved ones.
Notes
Try to buy the corn on the cobs with green husks, otherwise, if you choose corns on cobs with golden husk the corns will not cook well on the grill. Then you will have to dip the corn into salted water for about 20-30 minutes before cooking.
You can add dry mango powder in the dry rub, it will give a super sour taste that suits the corns well. or you can add tamarind powder in the seasoning to have a super tangy flavor.
Grilled Corn on the Cob
◁ Check more recipes ▷